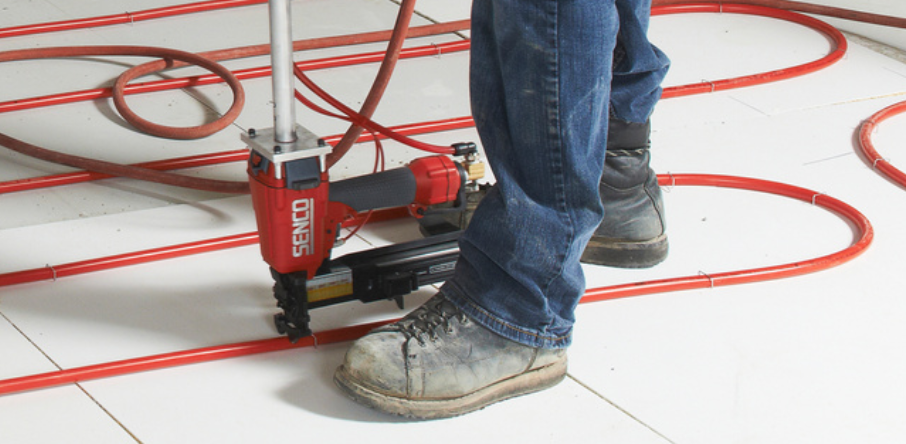 Foam Insulation panel with Thicker smooth fiberglass skin on both sides intended for use with Radiant heat tubing
Dimensions 1 ¾" thick, 22" wide, 64" long
R11
CCMC approved building material
More Durable than competing materials
Less expensive according to CMHC research study
Easier To Install – Less mess and no special tools
Description
INSTA-PANELS™ are insulated R-11 foam panels made of rigid polyurethane foam, covered in steel or fiberglass on both sides. INSTA-PANELS™ are designed to be used as an affordable and durable slab insulation and have all the benefits of regular sprayed-on polyurethane foam but in a portable solution. Panels measure 1 ¾" thick and weigh 1.99 lb/ft2.
INSTA-PANELS™ are available in multiple dimensions; the most common is:
22 x 64 inches – Smooth (total area 9.78ft2 /panel) CCMC #14016-R
Uses
Intended for residential, commercial, and agricultural applications where insulation is required or desired, under concrete, in radiant or non-heated floor systems. INSTA-PANELS™ can be used in a variety of applications including: under concrete floors of houses; garages; commercial workshops; warehouses; office buildings; cold storage and freezers; agricultural drive sheds; poultry barns; and other specialized applications.
Features and Benefits
High R-value for minimal thickness – rated at R11, INSTA-PANELS™ offer among the best R-value to cost ratio creating optimum energy efficiency, improved indoor air quality, and affordability.
Easy and efficient to install – INSTA-PANELS™ offer the same benefits as polyurethane spray foam, in a convenient, portable panel format that fits together quickly and easily.
Durable – rectangular panels are steel plated on both sides for ultimate strength and durability. Unlike traditional foam insulation, INSTA-PANELS™ will not break when walked on.
Best value on the market – in a recent CMHC research study, INSTA-PANELS™ were found to have the best cost-benefit value of all comparable materials tested.
Eco-friendly – INSTA-PANELS™ are made from recycled and reclaimed products.
Approvals and Credentials
Conforms to CAN/ULC-S704-03, "Thermal Insulation, Polyurethane and Polyisocyanurate, Boards, Faced."as referenced in the National Building Code of Canada and provincial codes.
INSTA-PANELS™ have been evaluated by the National Research Council's Institute for Research inConstruction (IRC) through the Canadian Construction Materials Centre (CCMC) and have been issued a CCMC evaluation listing number. A third party evaluation has confirmed that INSTAPANELS ™ adhere to the requirements set forth in section 9.25.2.2 of the Ontario Building Code as an under slab insulation.
Typical Physical Properties
The following test data is from an independent laboratory and is in compliance with the product standard.
| Property | Value Metric (Imperial) | Test Method |
| --- | --- | --- |
| Density (core) | 30.9 kg/m³ (1.93lb/ft³) | ASTM D1622 |
| Compressive strength | kPa 152 kPa (22.1 psi) | ASTM D1621 |
| Water absorption | 0.37% by volume | ASTM D2842 |
| Water vapour permeance | 3 ng/Pa·s·m2 | ASTM E96 |
*These physical property values are typical for this material as applied at our development facility under controlled conditions.
Long-Term Thermal Resistance
Test method: ASTM C518-10
| Thickness mm (inches) | R-value ft2·hr·°F / BTU | RSI m2·K/W |
| --- | --- | --- |
| 43 (1.69) | 11.4 | 2.0 |
*The Long-Term Thermal Resistance values are the design value used for INSTA-PANELS™ as per CAN/ULC-S704-03.
Health, Safety and Handling Considerations
WARNING: INSTA-PANELS™ are not intended to be used as structural panels. Proper safety equipment needs to be employed while handling polyurethane faced board insulation. Goggles, a face mask, and protective body wear should be worn when cutting and handling INSTAPANELS™. Product has sharp edges/corners and protective gloves should be worn when handling. Always stack and store panels in a safe manner to prevent piled product from toppling over. It is recommended that panels are piled neatly one on top of the other and are not stacked higher than 5 feet.